Everyday more and more products are going online and grocery goods (with beverages among them) are not an exception. Beverage industry was pretty slow in terms of adoption of e-commerce in comparison to some other industries, however numbers show that the turning-point might have been reached. Let's have a look into some of the important trends that should give you some food for thought (if they have not done that yet).
According to Eurostat's data from 2013, around 8 percent of shoppers in the European Union did grocery shopping online and that was on average a 60 percent increase since 2009. However some countries are far ahead from the average, i.e. France and Netherlands witnessed increases of online grocery shopping of 200% and 100% respectively. This signifies both that more shoppers are eager to purchase online, as well as there are more retailers that offer that opportunity.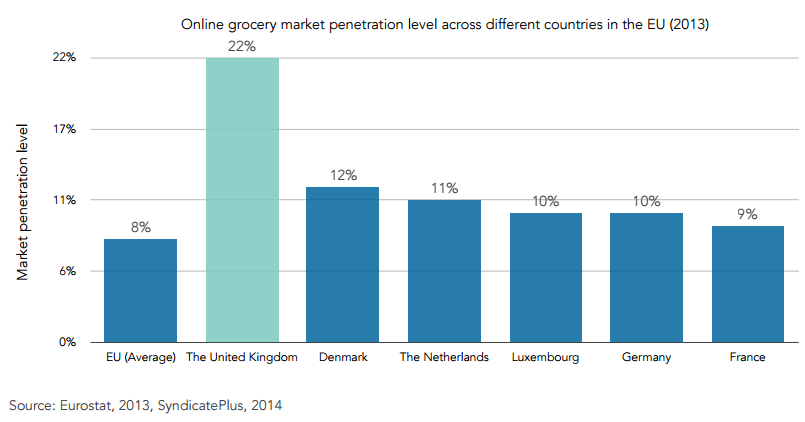 Revenues from online grocery shopping are expected to grow outside of Europe too. According to Statista's forecast, food and beverage e-commerce revenues in the US until 2018 are expected to grow approximately 10-12% each year. Penetration of online grocery shopping in the US is 20%, in comparison to 22% in the UK and approximately 8% in the entire EU. Considering that this constitutes no more than one third of total online shopping in the same regions, there is still lots of space and potential for significant growth of online grocery shopping.
As noted in The Online Grocery Shopper study by SyndicatePlus, which is based on a survey of online grocery shoppers in Germany, Netherlands, France, and the United Kingdom, approximately 55% of the respondents purchased beverages online. That is the top product category among the interviewees and it clearly shows an opportunity for the beverage retailers.
Since one of the reasons for online grocery shopping is convenience of not having to lift heavy items, it is likely that shoppers would tend to purchase bigger quantities of beverages online than they would in-store. Especially in combination with price-based promotions for product packages. The more the shoppers purchase, the more they are likely to consume, so increased sales of packages does not necessarily mean that shoppers would store them and therefore purchase less frequently.
One more interesting thing noted in the already mentioned study by SyndicatePlus is that grocery shoppers tend to shop online less frequently than they do in stores, however they tend to spend more on each online purchase. Almost 40% of shoppers spend 60 EUR or more per purchase online, however only 20% spend this much in-store. This is good news for those who already sell or consider selling online too, isn't it? Have a look into the graph below for more details on grocery shopper's basket sizes in-store and online.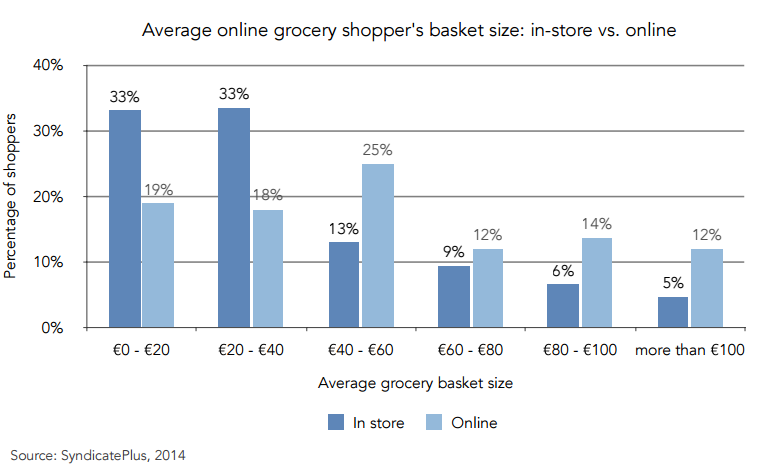 To sum it all up, growth of online grocery shopping is no surprise and most of beverage brands sooner or later will have to become available online. The question is whether they offer their products directly to their end consumers, which a significant portion of beverage brands already do, or will they do it via other online channels. It is quite obvious that if one does not appear where shoppers make the purchase, they are going to lose a significant portion of a pie and not only in terms of online sales but possibly in general. Especially having in mind that total uplift in beverage consumption is expected to be nowhere as high as the growth of grocery purchases made online in particular.