Protein Drinks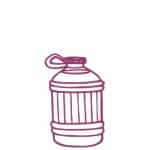 Our body needs protein in order to keep it strong and healthy. Teenagers, people who are recovering from injuries, athlete who are aggravating their usual workout program or people who are starting to workout. These groups of people need more protein as usual. That's why protein drinks is a great solution for them.
The most popular protein are soy and whey protein. Of course, there are a lot of other protein sources. For example, egg protein which is high quality lactose-free protein source. Protein can come in various forms such as bars, powder and liquid. The third one is easiest to use, because it is already prepared and can be use during workout.
Protein drink development is a tough process. Our team of experts had developed many protein drink recipes for our clients. Contact us and develop your unique, great tasting protein drink.
Ready to discuss YOUR project?
And Get A Free Quote in 24 Hours
Check out some case studies
Start your beverage company today
And Get A Free Quote in 24 Hours