Alcohol Beverages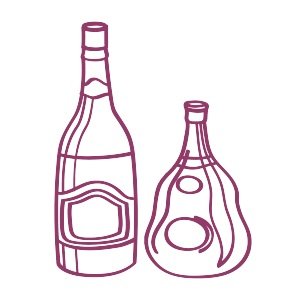 Alcohol beverages are an essential part of many cultures. There are many different alcoholic beverage types, and many parts of the world have their own cultural beverage. This type of beverage can be divided into two groups: fermented and distilled.
Fermented alcoholic beverages are types of alcoholic drinks like beer, wines, cider and mead. Usually, fermented alcoholic drinks have a lower alcohol volume than distilled alcohol. Ethanol is the main ingredient in distilled alcohol. Vodka, rum, tequila and many other beverage types can be distinguished as distilled alcohol.
Without specific know-how and experience, it might be very difficult to start the development of your private label alcoholic beverage. MyDrink has been working with different types of alcoholic beverage development projects for years. We have the necessary experience and knowledge to support you all the way.
What We Offer Clients
We are experts in formulating and manufacturing beverages, and throughout our years in business, we have aided in creating some of the most cutting-edge drinks at your local retailers. Our services include the following:
Beverage development: Let us help you create an award-winning formula ready for consumers.
Beverage validation: Our beverage validation process uses data and evidence to perfect your formula and plans as you scale your business.
Beverage sourcing: Through beverage sourcing, we can help you find optimal ingredients and packaging with competitive pricing.
Beverage production: Regardless if you are a start-up looking to begin production, a growing brand ready to scale your operation or an established brand trying to improve daily operations, MyDrink has the industry experience to help you at every stage.
We are ready to help you create a variety of alcoholic beverages, such as:
Why MyDrink Is a Trusted Partner for Alcoholic Beverage Production
When you work with MyDrink, you will have full ownership over your alcoholic beverage formulation, and we ensure every project can scale with the size of your company. Other benefits of choosing our business include:
High-Quality Formulation
During our formulation process, we will convert an idea for a beverage into a replicable recipe. Our team will help dial in your drink's flavor profile by establishing the steps and ingredients necessary for consistent production with each batch.
Full-Service Solutions
MyDrink offers support from concept to manufacturing. We understand the production of alcoholic beverages is a collaborative process, and consistency is vital to ensure your beverage is successful. Whether you need alcoholic beverage consulting about flavoring ideas or guidance navigating imports into the United States, our team provides it all.
Small-Scale Pilot Production
Our team can assist during small-scale production through our sister company, The Lab-Powered by BevSource. This chance for low-risk production allows you to get real-world feedback on your product before starting large-scale production.
Industry Experience
Our team has many years of experience that we utilize in every project. We understand how market trends flow and what consumers want, helping us make effective marketing decisions.
Integrity
We strive not to waste anyone's time or resources. Our beverage experts offer complete honesty from concept to post-production and are transparent with our decisions and opinions.
Ready to Discuss Your Alcoholic Beverage Project?
If you're ready to make your idea a reality, MyDrink is here to help. We offer an alcoholic beverage consulting service and can connect you to industry partners throughout the entire production process to aid in developing, producing and delivering your beverage vision. Contact our team today to get started.
Ready to discuss YOUR project?
And Get A Free Quote in 24 Hours
Check out some case studies
Start your beverage company today
And Get A Free Quote in 24 Hours