Consumer packed goods companies like Unilever, P&G, Kellogg's and Danone should watch their back as venture capital and tech-food startups are going to disrupt Food and Beverage industry once and for all. For the last few years we saw an unprecedented amounts of money pouring in to Food and Beverage business.
According to the CrunchBase data at 2010 Food companies raised $93 million dollars when at 2014 they managed to raise $272 million. In the second quarter of 2014 food business raised staggering amount of $89 million.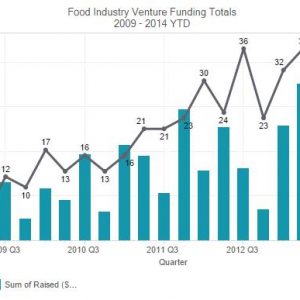 Source: CrunchBase
Investments are being made in to various F&B industry startups. It includes food related apps, online groceries services, food-tech companies and ready-to-eat products. These companies are trying to improve what, how and when we eat.
So why it's happening?
It's well known that Food and Beverage industry was lagging for quite some time in terms of innovation. Food processing, R&D, sales, distribution and retail have many flaws which had to be improved long time ago. Moreover, entrepreneurship as a culture in Food and Beverage industry wasn't very popular.
Just few years ago there was a change of behavior. First of all, western society became more interested in what they eat and how they eat it. In general food eating culture became very important part of the life. First time in history there was a new trend (crazy stuff..) that consumers started to read labels on the products. Consumers became interested what they eat and how they eat. Food became very hipster trendy.
Secondly, F&B industry as a whole is being taken over by old-school, old-type business managers who are not interested to innovate. They play safe. They do not understand culture and values of Silicon Valley and they are not ready for what's coming next.
Entrepreneurs managed to identify these gaps and that's why they are trying to capitalize on them. That is why we see these new services and products: Instacard, Soylent, Ambronite, Suja etc. .
Venture Capital and multinationals are preparing for growth
That is why we see so many new investment funds, accelerator programs and crowdfunding platforms which are targeted specifically for Food and Beverage industry. Few years ago there wasn't any of these: FreshStartup, AccelFoods, Food Hatch, Cinnamon Bridge, NextFarm, CircleUp, AgFunder, CraftFund or many others…
During next 5 years we will see a dramatic shift in F&B industry. New startups will be disrupting every part of supply chain starting from growing, processing, distributing and selling food. We have to be prepared for that.
Look around. F&B renaissance is happening at the moment.