Total groceries sales in USA for 2013 was $600 billion worth. While online groceries market size was less than 1% which is less than $6 billion (Source Business Insider). Seems quite a small number. While in Europe at 2012 largest markets for online groceries divided accordingly: UK €7.1 billion, France €5 billion, Germany €1.1 billion and Netherlands (Source IGD).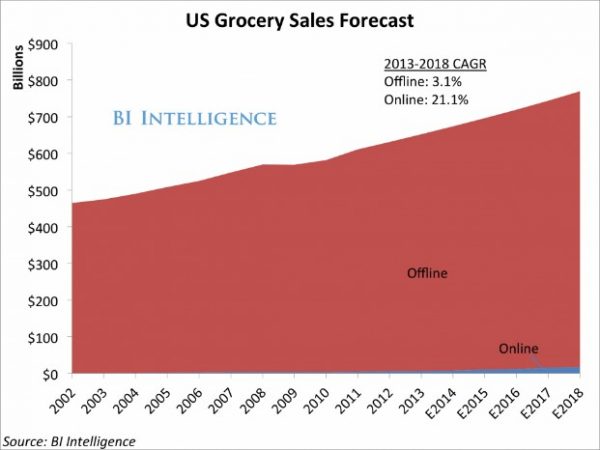 However, things are changing dramatically at the moment in food and beverage industry. It's being projected that at 2018 online groceries market size will increase to $18 billion. While largest European markets (UK, France, Germany, Netherlands) will double their online groceries market size to 2016.
What is happening? Why we such a dramatic rise in market size all over the world? Why beverage industry is lagging to enter to the age of ecommerce? I believe there are many theories, however, main things are quite clear.
1. Cost and complexity of logistics
2. Shipping fees
3. Quality and freshness of products
Innovative startups that focus to increase the quality of online groceries shopping are being launched. For example, Instacart is promising that he will deliver your groceries in an hour. Large tech giants such as Amazon, eBay and Google are starting to offer same-day delivery services. These services are being offering only in USA, however, it doesn't mean that Europe, Asia, Middle-East will not try to catch up. New beverage companies are being launched using funding from Crowd-Funding platforms. So what does it mean?
For beverage industry it means a lot. New opportunities are emerging both for entrepreneurs and larger beverage brands. Entrepreneurs and SMEs will be empowered to launch and test their products online while selling it directly to the consumer. They can start selling their new products in online marketplaces (Amazon, eBay) almost instantly. The age of Brand Owner -> Retailer -> Consumer is almost over. We need to adapt to the new rules of this game. It's a unique opportunity for the whole industry. Lets' use it!