One of the Key trends in 2015 is a clean label beverage
– beverages with no artificial ingredients. This trend in noticed already since 2010, but lately interest in it increasing significantly.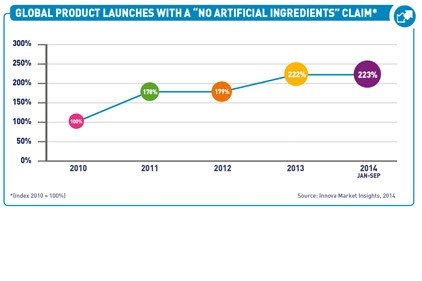 Recently distributors, retailers are getting more and more focused on product label and this is obvious, cause consumers are paying to it more and more attention and clear label is a huge value which is helping to sell more.
Target consumer of majority of the novel beverages is millennial generation which is well informed, open to novelties and less loyal to brands. They want to know what they are drinking and what the benefits are.
TOP 5 steps to a clean label beverage development
Sweetener – replacement of sugar or artificial sweeteners with fruit extracts, stevia or agave nectar. All these sweeteners are with low GI, very important fact for people with diabetes and those who are taking care about their eating habits.
Acidity regulators – substitute citric acid (E330) with natural acidifiers such as: tartaric acid and lemon juice concentrate.
Functional ingredients – substitution of functional ingredients is a difficult part, as most of the vitamins and minerals are chemically synthesized. The solution for vitamins is to change it with a herbal extracts, for example Acerola is a great source of vitamin C, for a natural mineral content a great solution is salt lake mineral complexes or sea salt. For a natural caffeine content there are several analogues such as green coffee bean extract, guarana, Yerba Mate extract. Although EFSA has not proved many claims for herbal extracts, it is always a proposition to use well known ingredients for their functions, for example to use valerian root extract for relax drink; ginseng for immunity drink etc. In this case you will not need to educate consumers to transmit correct message.
Preservatives – for clean label preservatives are off the table without any question. There are several technical solutions for this: pasteurization (heat treatment), HPP (High Pressure Processing) or Aseptic filling.