If you like to keep an eye on all the latest foodie trends, you've probably crossed paths with kombucha — a fermented tea mixed with a dash of bacteria, yeast, and sugar, often with a bit of fruit juice thrown in as well. It's a probiotic beverage, filled with live bacteria which help promote a healthy gastrointestinal tract. The bacteria are created during the fermentation process and are safe (and healthy!) to consume.
Though it's been around for a long time and has been a hearty staple of the alternative-health market, kombucha recently made its way back into the spotlight as a social trendsetter, generating $556 million US in refrigerated beverage sales during 2017.
And the market anticipates a steady upward trajectory in the coming years. The recent launch of a line of kombucha beverages from former rugby union star, Jonny Wilkinson, highlights the growth in acceptance and publicity for the formerly unknown beverage.
The Kombucha Craze
It's more likely a combination of factors, rather than one source of influence, is responsible for the rise in kombucha's popularity. The drink has roots in Chinese culture dating back over 2,000 years and was once considered the "tea of immortality", according to ancient myth. However, it's only recently that the drink has exploded onto the consumer market as the probiotic craze has gone mainstream.
Walking into any local supermarket, you'll likely see kombucha in every type of bottle and flavor lining the shelves alongside similar probiotic foods and beverages like yogurt and kimchi. The drink is especially popular among teenagers, college students, and younger adults who tend to favor health-conscious alternatives and lifestyle choices over traditional consumer food products.
In an article discussing food 2018 food trends, Julia Mellentin, Director of New Nutrition Business at Nutraceuticals World, writes:
"The single, most powerful trend in today's marketplace is consumers' desire for foods and ingredients that are 'naturally functional.' This massive trend underpins the success of almost everything else. It's the key driver of most innovation in healthier food and beverages, from plant-based foods and beverages to the re-birth of full-fat dairy, the rise of green juices, blueberries, almonds, seaweed snacking and more."
That's no surprise. Functional foods and beverages are seeing massive growth, particularly with millennials. BevNet reported in 2016 that while carbonated soft drinks are in the middle of a five-year decline, natural and functional beverages should expect to see a 40 percent dollar growth in the industry.
Despite the mystifying uptick in kombucha and its probiotic cousins, the numbers don't lie. A 2016 market analysis anticipated 25 percent growth in the kombucha market year over year until 2020 — which might have been a modest estimate, considering that the market grew 41 percent in 2016 and 37.4 percent last year.
EMEA: growing focus on health-oriented foods to boost growth
While awareness around healthier alternatives has grown in the US over the last decade, the European market has long outpaced its western neighbor in organic food sales. In 2016, Europe was one of the largest markets of kombucha, behind the Americas, with the UK, Germany, and France driving industry growth.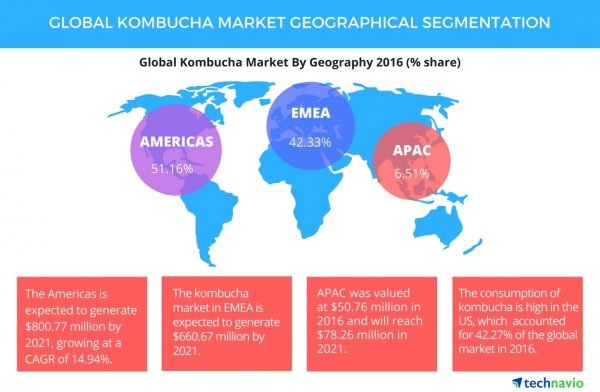 Though trends around probiotic and fermentation foods are coming to a head in Europe, the craze still trails behind the US. Kombucha-oriented brands are sustained by the US West Coast, where the top five cities for 2017 sales were San Diego, Seattle, Portland, San Francisco, and Spokane.
Part of the hesitation in the European market may have to do with European retailers response to new and trending concepts like fermented foods and beverages. Though fermentation in foods is on the rise globally, Europe has been "slow off the mark," according to Brian Owens of Rhythm Health, a maker of coconut-based kefir beverages and snacks. Some have speculated that this is due to European manufacturers and retailers being slower to respond to the consumer demand than other markets. This real or perceived sluggishness may have to do with EU probiotic legislation and the history of a difficult regulatory environment for probiotics.
Infrastructure and supply chain issues may also be contributing to slower growth in some parts of Europe. The process for fermenting and manufacturing kombucha is lengthy and intensive, and some suppliers aren't able or willing to dedicate the required equipment and resources. But the list of producers in the UK and Europe is growing.
LA Brewery, located in the UK, makes and bottles their own kombucha and ships it across the country while London-based Jarr Kombucha has opened Europe's first kombucha tap room in addition to stocking their product in local markets. In Russia, where kombucha was considered a staple during World War II long before it caught the eye of the US consumer, kombucha is making a comeback.
An Overblown Health Trend?
Despite its categorization as a health product, questions continue to circulate around kombucha's health benefits. Since its debut in ancient China as a miracle elixir, kombucha has been credited with a number of positive side effects,
from carrying antioxidants to reducing heart disease and managing diabetes.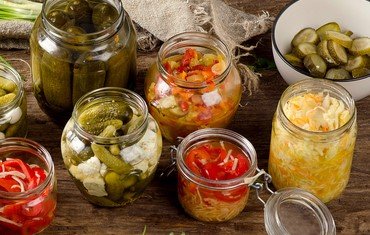 While some of these benefits are undisputed, they may be overblown when put to the test. One study found that the benefits of kombucha weren't unique to the fermented tea itself, pointing out that while kombucha does carry some benefits, it's no different than drinking other teas or eating other fermented foods. That is to say: the benefits of kombucha could be acquired in other ways if the taste, the price, or the trend doesn't appeal to the standard consu
mer.
The lack of detailed clinical studies means that declarations of health benefits on packaging under EU law is limited. This could be another contributing factor to slower adoption rates in European countries.
Wrapping Up
No matter your thoughts about the tea or its related health benefits, it's clear from the numbers that the kombucha market is growing and hasn't yet peaked. While the drink is already popular in Europe, projections indicate that the market may be set to follow US consumer trends around probiotic foods and drinks. According to a 2016 report, the Europe kombucha market was worth $156.26USD and estimated to be growing at a CAGR of 24.5%, to reach USD 467.41 million by 2021.
So grab a glass and pull up a chair. Kombucha is here to stay.