Increasing trend in nutraceutical functional functional beverages
Just recently I found a bit old, but very interesting market analysis from Frost & Sullivan: Global Nutraceutical Industry: Investing in Healthy Living (2010). You can download it by yourself. In this post I would like to point out several interesting things which I have found there.
It's known that European Nutraceutical industry was valued at US $ 35 Billion in 2010. Its Annual Average Growth Rate was 14.7% at 2002 to 2010 compared to 7.3% at 1992 to 2002 (table no.1). Which shows us that there is a huge potential in nutraceutical industry as it is still growing. At 2012 market size of Europe nutraceutical industry should be somewhere around US $ 45 – 50 Billion.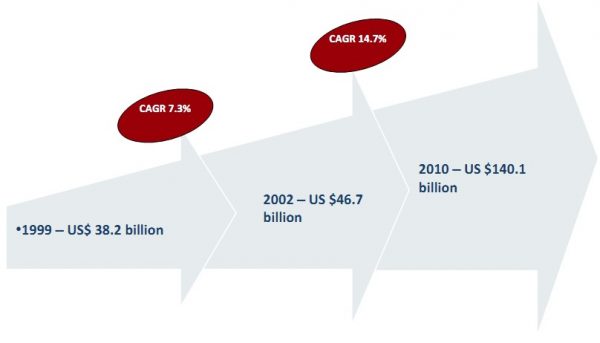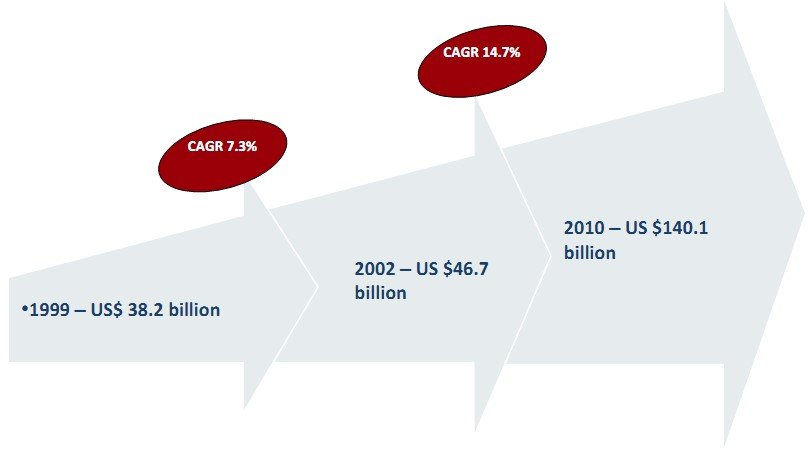 Source: Frost & Sullivan and FICCI
At 2010 nutraceutical market was a bit different. For example, we can look at at functional ingredients profile at 2010 (table no.2). It shows us that there were four main target areas for nutraceutical ingredients such as cardiovascular diseases, weight management, cognitive health, bone and joint health. Nowadays, we can see a bit broader view. There are several additional target areas such as obesity, elderly consumer and digestion problems.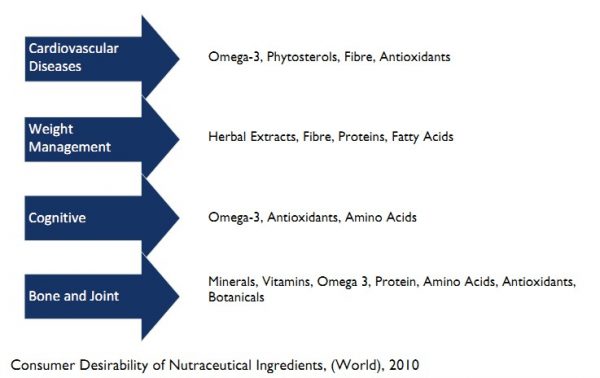 Source: Frost & Sullivan and FICCI
It's interesting to know that Functional Food & Beverages market size in Europe at 2012 was US $ 12 Billion which is 34%. During my analysis I've found that at 2012 market size for Functional Beverages at 2011 was US $ 12 Billion (table no.3).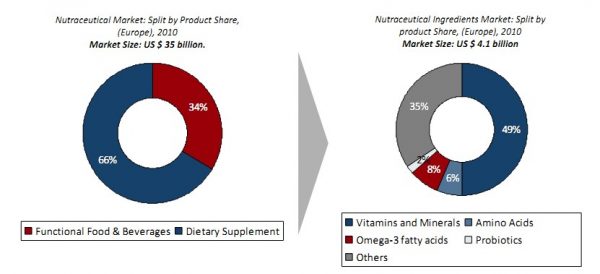 Source: Frost & Sullivan and FICCI
Europe is driven on the basis of health claims. Companies are trying to adapt their products to EFSA requirements. Slow pace of regulatory approvals for health claims due to a heavily regulated market is a huge problem for small innovative nutraceutical companies in Europe. Sometimes I envy Asia and USA companies who could move way much faster compared to us.
Check out most popular health claims in Germany, UK and France (table no. 4).

Source: Frost & Sullivan and FICCI
You can download this research by yourself and analyze it more deeply. To sum up, Europe nutraceutical market is:
Fragmented market – looking to consolidate in the near future.
Small and medium businesses rule the roost of this segment, resulting in lower advertising and marketing spends thus limited expansion.
Consumer demand is the key driving factor for the segment as they become more interested and aware about food content and nutrition.
Growth in this region is usually on the basis of ingredients as opposed to the finished product.
Increasing trend for natural, healthy ingredients and products.