The legalization of cannabis and cannabis-derived products continues to gain momentum, fueling innovation in beverages. Cannabis-infused beverage sales rose from $67.8 million in 2019 to $95.2 million in 2020.
The CBD sector is one of the fastest-growing segments of the space thanks to the Farm Bill, which ensures that growing hemp will be legal if that hemp is produced in a manner consistent with the Farm Bill and associated federal regulations, state regulations, and by a licensed grower.
Even with recent advancements, the complexity of evolving regulations, lack of available research, and high levels of confusion amongst consumers make creating CBD-infused drinks challenging. Some aspects of the challenge are new, but beverage companies have faced similar hurdles with other functionals ingredients, like caffeine, that are now successfully added to millions of beverages.
As with any product development opportunity, the companies that translate deep and broad cannabis knowledge into insights that drive strategic product evolution are the most likely to win.
Here are six subjects the future leaders in the CBD beverage market are studying now: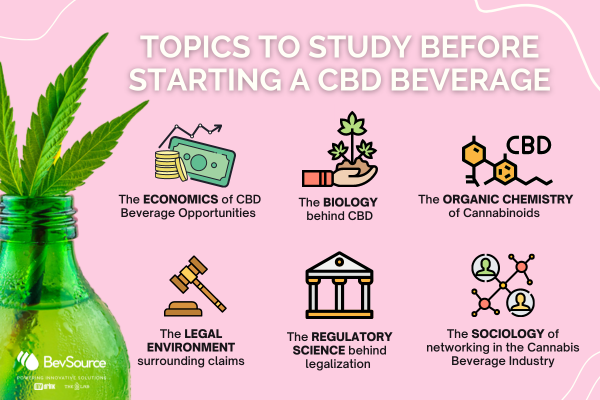 1. The ECONOMICS of CBD Beverage Opportunities
Beverage companies poised to lead the CBD market are marking calculated, educated bets on opportunities based on their understanding of the beverage industry, the cannabis market, and the growth potential in each.
Nobody has a crystal ball, but the impacts of changes in regulations on market awareness, acceptance, and penetration in geographies, like Canada, and in other categories, like topical CBD products, give clues to help prospective CBD beverage companies strategically size and approach opportunities.
Along with the regulatory environment, current and prospective CBD beverage leaders understand how factors like product positioning, target market, competition, and pricing affect the probability that their products will succeed.
Homework:
Stay up-to-date on market opportunities by:
Seeking out publications, studies, and statistics from reputable sources.

Following trade and industry associations.

Making educated predictions and challenging your assumptions about the future of the CBD beverage industry.
2. The BIOLOGY Behind CBD
In addition to understanding the economic drivers in their markets, leading CBD beverage entrepreneurs also understand the anatomy of the cannabis plant, the differences between types of plants, and the basics of cannabis cultivation.
Even though the oldest known written record on cannabis use dates back to 2727 B.C., there's still much confusion about the plant itself. A recent study revealed that 58 percent of Americans don't know the difference between CBD and THC. To help educate the market and effectively navigate the implications of regulatory changes, entrepreneurs need to understand the basics of cannabis biology, including the relationship between hemp and marijuana and the qualities that distinguish industrial hemp from other types of hemp.
Homework:
Review the biology of the cannabis plant to understand:
The parts of the cannabis plant and how they're used.

The definitions of terpenes and cannabinoids and their variations.

The differences between Sativa, Indica, and hybrid plants and their qualities.

The lifecycle of the cannabis plant.
3. The ORGANIC CHEMISTRY of Cannabinoids
As the cannabis market matures, it's increasingly important to go beyond the basics of plant anatomy to gain a basic understanding of cannabis chemistry. The cannabis plant contains approximately 540 chemical substances.
Cannabinoids like THC and CBD are well known, but numerous other chemicals are present in the plant. More than 60 distinct cannabinoids have been identified, each with specific properties and effects on the human body. CBD (cannabidiol) is the second most prevalent of the active ingredients of cannabis (marijuana). Commercial CBD is derived directly from the hemp plant, which is a cousin of the marijuana plant. While CBD is a component of marijuana, by itself, it does not have psychoactive properties.
There is also an entire class of compounds called terpenoids that are chemical building blocks to make cannabinoids. Cannabinoids and terpenoids are made up of simple chemical building blocks called terpenes- small, volatile molecules that give cannabis much of its flavor and aroma.
As cannabis chemistry advances, understanding different chemical components and how they affect the body and mind will be an increasingly valuable competitive advantage for developing cannabis beverages.
Homework:
Become familiar with cannabis chemistry by studying:
How THC is made in the cannabis plant.

The composition and properties of cannabinoids, terpenoids, and terpenes.

The "entourage effect" and how it affects the medical properties of cannabis.

How different methods of extraction and processing involve the chemicals in cannabis.
4. The LEGAL ENVIRONMENT Surrounding Claims
Publicity surrounding CBD's potential health benefits has fueled the industry's growth, but using unproven and unapproved claims in your marketing puts your CBD beverage at risk. The Food and Drug Administration (FDA) and the Federal Trade Commission (FTC) recently issued warning letters to three companies marketing their CBD products as treatments and cures for various diseases and illnesses.
CBD beverage leaders work to avoid costly regulatory enforcement actions and consumer class actions by studying the laws governing the labeling and advertising of CBD products.
Homework:
To become proficient at navigating the CBD beverage legal landscape:
Review the FDA and FTC regulations related to your product.

Understand the labeling and advertising laws in the states where your products will be marketed and sold.

Study best practices for labeling and advertising CBD beverages to avoid non-compliance and decrease the risk of being cited or sued.
5. The REGULATORY SCIENCE behind legalization
CBD beverage leaders understand existing regulations while preparing for what the regulatory landscape will look like in the future. No one has a full read on when and how things will change, but understanding the organizations and processes involved in shaping CBD beverage-related laws makes it easier to predict and prepare for the future.
Studying the paths of similar or related products and closely following the evolution of cannabis-related regulation and legal issues is an excellent place to start.
Homework:
To predict the future of regulation in CBD Beverages:
Review the U.S. Center for Drug Evaluation and Research (CDER) guidance on approval pathways for cannabis products

Watch which cannabis-related drug products are approved by the Food and Drug Administration (FDA)

Review the warning letters issued by the FDA to other CBD manufacturers and retailers

Examine state-level regulation for licensing cultivators, producers, and dispensers of CBD products.

Read up on guidance and rulings surrounding furthering cannabis-related clinical research.
6. The SOCIOLOGY of Networking in the Cannabis Beverage Industry
Solid partnerships and creative collaboration allow you to reach outside of your organization to scale up and expand. Discovering and strategically connecting with the right people and networks gives you resources to solve problems and grow your CBD beverage business.
Homework:
Expand your connections for your CBD beverage company by:
Find and attend relevant industry events.

Practice your elevator pitch so you're ready to make the right connections.

Research industries and people you want to work or connect with.

Make connections with new contacts regularly.
Continuous Learning for CBD Beverage Success
The most significant indicator of a beverage company's long-term success is its commitment to ongoing learning. When passion is backed with consistently excellent research, problem-solving, and experimentation, there's no limit to what CBD beverage innovators can achieve.