The COVID-19 pandemic put health and wellness front and center in many people's minds, leading to a sharp spike in demand for organic products. It wasn't immediately clear if this trend would have staying power, but consumers remain just as interested in fueling their bodies with naturally good-for-you products. During the pandemic, they made commitments to their health that affected their buying habits — and those aren't going away any time soon.
Natural drinks forego unnecessary additives or processes, while organic drinks meet specific criteria regarding the production methods used. In the United States, the organic label only goes to products with at least 95% certified organic content. Natural and organic drinks grant more health-conscious dietary choices free of unwanted components like pesticides, genetically modified organisms, excess sugar and artificial dyes. With a more health-conscious consumer base, it's no surprise these drinks are gaining steam.
The State of the Natural Food and Drinks Market
The natural and organic products industry is on track for steady growth. In 2021, it saw a 7.7% increase in market size to $274 billion. After fruits and vegetables, beverages comprise one of the market's largest segments. They also comprise the top growth category in functional products, which target specific health issues like hydration, energy, focus, digestion and sleep.
Though supermarkets and hypermarkets lead the way in distribution, convenience stores and online retailers also contribute significantly to organic and natural drink sales. Online purchasing may have an influential role in this market. E-commerce increased 50% to $23.5 billion in 2021. Many emerging brands lean on nontraditional sales channels like social media and e-commerce to gain market share.
Market competition in this industry includes major beverage brands but leaves room for many independent brands. Customers can find "clean" versions of well-known products or dive into a sea of new drinks with innovative claims to fame.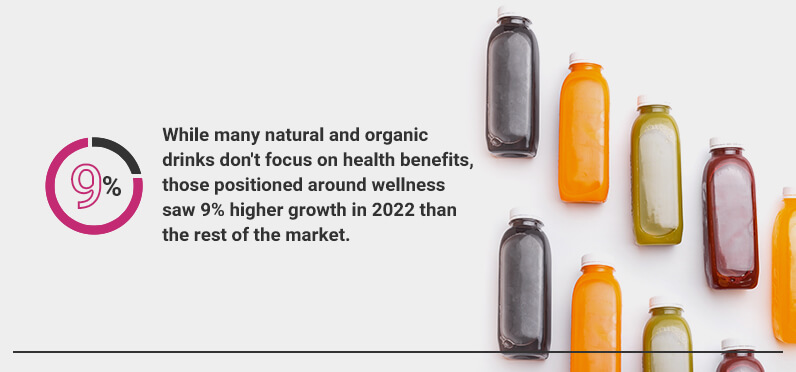 What's Driving Growth in Natural and Organic Drinks?
The most significant driver of the natural and organic drinks industry is likely the public's increased awareness of health and nutrition. More people have started regularly drinking natural and organic beverages as part of healthier diets.
While many natural and organic drinks don't focus on health benefits, those positioned around wellness saw 9% higher growth in 2022 than the rest of the market. The health and wellness market still booms, and many consumers take a holistic approach to their health. They consider the overall picture of health in a wellness "ecosystem" that includes dimensions like sleep, mindfulness, nutrition and appearance. As more people focus on their general health, wellness-focused products are performing exceptionally well and growing at over 5% annually.
With this increased interest in health and wellness comes a new definition of "healthy." In 2016, people considered "healthy" as removing specific elements from their diets, like fats and sugars. Now, they focus more on clean, unprocessed ingredients like vegetables, fruits and whole grains. Notably, people want to get these nutrients in their diets rather than through supplements. This idea of food as medicine is driving brands to include functional ingredients. Beverages are particularly convenient, so many brands include ingredients like:
Collagen
Adaptogens
Mushrooms
"Super" greens
Prebiotics and probiotics
Herbs
Many brands also see success by removing components like added sugars, caffeine, animal-based products, alcohol or GMO ingredients.
Another significant part of the natural and organic drink sector lies in sustainability and transparency. Customers want to know where their food is coming from and buy from ethical companies. Clean labels, organic certifications and other industry credentials offer peace of mind and more options. Items in this industry often appeal to these buyers with initiatives focusing on sustainability and transparency.
Ingredient traceabilty: Many consumers look for visibility into ingredient sourcing and want to buy from companies that are transparent about where their products come from. For example, a brand that boasts local ingredients can avoid the significant environmental effects of long-distance transit and support smaller farmers. Health and wellness buyers often appreciate these positive impacts.
Healthy production methods: Some natural and organic drinks tout production processes that are better for the environment or the consumer. For instance, plant milk comes in many types, which vary widely in how much land and water they require and the amount of greenhouse gas emissions created during manufacturing.
Sustainable packaging: Sustainable packaging has challenged the food industry for a while, and the beverage sector is no different. The "green" nature of natural and organic brands lends itself to environmental stewardship and sustainable packaging, which most buyers want to see. Consumers in the U.S. say they're willing to pay more for and buy more sustainably packaged products that are readily available and better labeled.
Ethical practices: Research shows consumers will use their purchasing power to support ethically made products. Many buyers prefer brands committed to treating humans, animals and the planet ethically. They may look for claims and certifications like "fair trade," "cage-free" or "plant-based" on their products.
The Future of Natural and Organic Beverages
This market should continue on its upward trend. The natural food and drinks sector has a compound annual growth rate of 11.44% from 2022 to 2031, with predictions suggesting a $361.3 billion market size by then. The global organic beverages market is even hotter, with a 13% CAGR between 2023 and 2028.
Since health and wellness are sticking around, we can expect natural and organic drinks to have a steady future. While the significant driver of awareness will be a strong force in the market, some anticipated growth areas include the following.
Younger generations: As Gen Z gains purchasing power, they'll bring an increased interest in health and wellness and a commitment to sustainable and ethical purchasing.
Distribution expansion: Supermarkets currently reign supreme in natural and organic distribution, but with their increased popularity, we should start to see more of these drinks in convenience, foodservice and extreme-value retail settings.

Navigate the Organic and Natural Drink Market With MyDrink Beverages
The beverage industry is unique, especially in categories like natural and organic products. Set yourself up for success by working with beverage professionals. The experienced team at MyDrink Beverages can usher your brand through the entire process, from development to sourcing to post-production. We have access to competitive pricing from a vast network of dealers and extensive insights to help you make the best business decisions. Whether your biggest roadblock is limited time, money or knowledge, we can help you get to market quickly with minimal risk.
MyDrink Beverages is your one-stop shop for all-natural and organic drinks, with the resources to help established brands and new ones in the North American market. Speak to an expert today to learn more about how MyDrink Beverages can help you launch or build on your natural or organic drink brand!