For the last 10 months I had an opportunity to be a part of what I love – developing beverage startup from scratch. Our idea was to launch a product which could be a healthy substitute to all of these unhealthy snacks that people eat in their offices. Take a look what we have right now!
What is Hello Hungry?
Hello Hungry is a liquid meal developed specifically for office people. We spend last year researching the right combination of ingredients which could tackle office hunger and add some functionality which could benefit health of office people.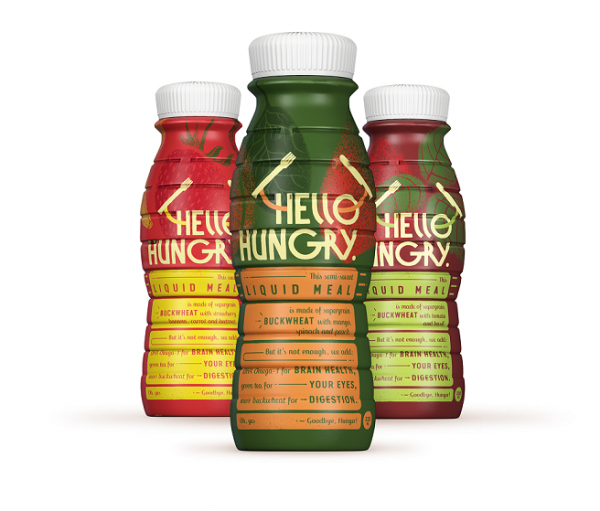 First of all, I need to explain that the main goal of the product is not to change a nutrition. We like to eat and we enjoy eating good food, however, the problem is what we eat during our office hours. So our idea was to offer an on-the-go solution which could tackle your hunger in a healthy way and enable you to perform.
Recipe of the product
Made of buckwheat and 3 unique blends of fruits and vegetables to tackle your hunger and be easily digestible. Recently we saw a huge trend of quinoa and chia seeds. We decided to skip this trend. So we added some Nordic touch… buckwheat. Did you know that buckwheat is a super food and is full of proteins and fibers?
Before starting the development of the recipe we made a research of main health problems that office people face. Results were quite staggering and at the same time obvious. Main health problems that office people face are heart, eye and brain health. In that instance we understood that we need to use plant based DHA Omega-3 fatty acids which is well known for the health benefits to heart, eye and brain health.
So we have a liquid meal which is gluten free, vegan friendly, no sugar added, no-GMO and lactose free.
First steps of Hello Hungry beverage startup
First baby steps for young beverage startups are crucial. Every mistake can be vital for the business. We understand that we need to test our hypothesis with the future customers and consumers. We need to get the feedback about the product and the concept. Without this information there is always a possibility to push a product that no one really needs.
To find out we are launching crowdfunding campaign on IndieGogo with a goal to test our concept. At the same time we will be testing this product with our future consumers in United Kingdom. Our goal is to get the feedback and understand whether we are going to the right direction.
Pre-Order Hello Hungry during crowdfunding
We've made an initial batch, which we are ready to distribute to our supporters – pledge our case and be the first to try Hello Hungry. We are able to send you Hello Hungry right after the end of our campaign – so you could try some and tell us what you think. Help us help people like you and us – hard workers going for gold at their offices.