We are working with various beverage consulting projects globally, however, sometimes we forget to ask our clients what they learn during the development stages of their products. Today I'm speaking with Founder and Co-Owner of North Wine & Spirits Renate Nikolaisen about their beverage development project of natural alcohol cocktails.
Can you tell us more how did you come up with an idea to start beverage business? Did you have any experience about beverage industry before this project? Can you share this story with us?
The world is trending more and more towards natural foods, and in our home market, Norway, natural foods and light products are huge in all categories – except in the alcoholic category. We believed that this category was not following the innovations and trends we could see in other related food & beverage categories and wanted to do something about it. I started on the idea while studying business in the US, but was not old enough to drink alcohol at that time as I was under the age of 21. Developing an alcohol business while being underage wasn't a recipe for success, so I had to wait with the founding of the company and the development of the products after returning home to Norway. Then I met Lisbeth (co-owner), who saw the same potential in the products and wanted to join in on the company. Together we've developed what came to be North Cocktails.
We had no experience at all about the beverage industry before this project, but that didn't stop us. We were willing to learn along the process and believed in our idea for the products and that was what pushed us forward. We always knew that we could outsource whatever expertise we didn't have, which actually led us to MyDrink.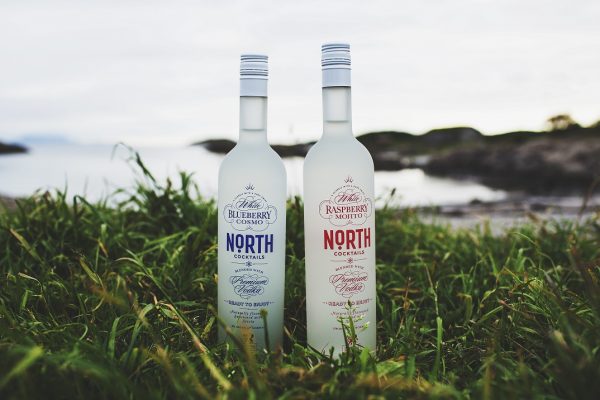 Why alcohol? It's a very difficult business. Consumers and retailers are usually very conservative, so they are not willing to try new brands. It might be very difficult and expensive to penetrate the market.
We saw a potential in a product that did not exist in the Norwegian market. Even though the alcohol business is challenging, we believe in North Cocktails and we know that the customers agree because it is the first product of its kind in the Norwegian market. With the natural ingredients and stevia as a sweetener we target a new group of customers who wants to have a better option when they drink alcohol.
In our case both the consumers and retailers in Norway have been very open minded and willing to try our product.
Our vision is to be a market leader in our segment of natural alcoholic products.
We see that there is a growing trend in Norway to eat/drink natural foods and a decreasing trend of using conservatives, so that's probably why people have been so eager to try our products.
So once you decided to start alcohol brand what was your next step? Did you have a plan?
The very first thing we did after deciding to start an alcohol brand was to research the market and find a good partner to develop the recipes with. That was when we contacted MyDrink for help in the development process of the recipes.
We had written a business plan and were aware of the stages we had to go through, but we were not aware of the time it would take to go through them. So yes, we did have somewhat of a plan, but had to alter it along the way. Our vision was still clear though, we wanted to present a natural option in the ready-to-drink alcoholic market.
We had a lot of questions about the process and the development stages and they always gave us the answers we needed.
In the beginning the plan was to focus only on the cocktail collection and development of the North brand. Eventually, after discussions with our investors we decided that we were also going to import wine and spirits to supplement our own brand.
How MyDrink Beverages consultants added value during your beverage development process?
As we didn't have any experience in beverage development at all, so MyDrink has been a very helpful. Especially since we are dealing with natural products their expertise in this area was very important to us.
We had a lot of questions about the process and the development stages and they always gave us the answers we needed. As well it was a very good experience for us to visit the MyDrink office in Kaunas, Lithuania. This gave us a greater understanding of the process.
Did you make any mistakes during the road which you wouldn't be making next time? What are they?
Yes of course. One of the biggest mistakes we made was not realizing how much time it all takes. For example, we were using too much time to decide which flavors to go for. We knew we wanted to launch two flavors, but in the product development we worked with four to have some options if some failed. It turned out it was ups and downs with all flavors and they needed work before we got them as we wanted. If we had just chosen two flavors earlier in the process we could have saved a lot of time perfecting them instead of using time on the ones we did not launch. But the time wasn't completely wasted because we are definitely planning on launching more flavors, and we now know that is takes time to develop the perfect recipe. We also had a lot of challenges choosing bottles as we wanted a specific design and that wasn't easy to find because of the limitations we had in the production facilities. All measurements of the bottles needed to fit their machines. We should have researched this in more detail ahead of time.
What's next for North Wine & Spirits? What's your final vision for this company?
Our vision is to be a market leader in our segment of natural alcoholic products, in Scandinavia first, but hopefully expanding to both the European and US markets.
We will keep focusing on natural flavors and stevia as a sweetener in our alcoholic products. We believe that stevia will become more popular to use in alcoholic beverage in the future, and we want to be leading the trend of this and of making alcoholic beverages more suitable to the modern consumers.
For the next steps we want to extend our White Cocktails Collection with more flavors. We also want to supply our brand with more products such as flavored vodka and organic wines under the North brand.
For more information about North Wine & Spirits visit their website.