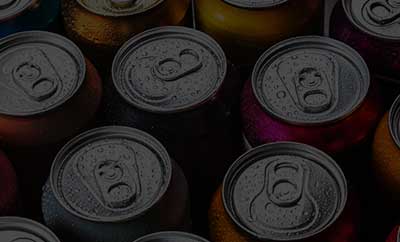 The beverage formulation process requires countless decisions, with one of the most important being what kind of container to use for your beverage. While glass and plastic offer unique benefits, aluminum cans and bottles enable designers, engineers and manufacturers to access a wider range of benefits. From its lightweight construction to excellent recyclability, aluminum packaging is a great choice to add value to your beverage.
At MyDrink, we are proud to connect you with our beverage packaging partners to help you find the right aluminum can or bottle option for your needs. Our long-standing relationships with numerous packaging partners put us in an excellent position to provide access to high-quality products at competitive prices. When you work with us, you will receive personalized packaging solutions, as we can find suppliers to accommodate various sizes and custom orders to help you find the perfect container for your beverage.
Benefits of Using Aluminum Cans and Bottles
Since aluminum is easier to handle and less expensive to ship, it is a great option to improve your company's bottom line while delivering a reliable product. Some additional benefits of aluminum cans and bottles include:
Using aluminum for carbonated drinks provides an airtight container that keeps your product fresher for longer.
Aluminum cans and bottles are lightweight, which aids in reducing fuel costs compared to other packaging options, such as glass.
Aluminum offers sustainable packaging that contains more recycled content than glass. An aluminum can or bottle can also undergo the recycling process infinite times.
Using aluminum packaging enables developers to optimize looks and styles that elevate products and brands beyond the competition.
Let Us Connect You With Our Manufacturing Partners
At MyDrink, we will leverage our industry partnerships to help you access sustainable aluminum cans in the quantities you need at preferred rates. We can find suppliers to handle orders of any size, and we are happy to offer help through any supply chain issues, as well as aid in developing short- and long-term solutions.
Can Options
Our clients are always our priority as we help you transform your beverage concept into a physical product ready for shelves. Throughout the process, we will utilize our expertise, resources and connections to help your brand experience greater success. Forming a partnership with us grants you access to our network of manufacturers who produce an array of can and accessory options.
Can Liners
We can ensure that your can's liner is compatible with your beverage while meeting safety standards. If you source your own cans, you will also have access to The Lab, the first third-party beverage quality laboratory offering SpecMetrix-certified can liner testing to all members of the beverage industry.
Can Pull Tabs and Decorative Ends
At MyDrink, we will source the right lids for your can and can provide you with numerous end options to make your beverage product stand out while remaining functional.
Custom-Decorated Cans
The design on your can or bottle is an extension of your brand, making it vital to choose a design to represent your beverage and your company. If you decide to use a custom-decorated can, we will use our industry partnerships to find an expert you can collaborate with to design your ideal can label.
Brite or Printed Cans
Brite or printed cans feature an aluminum outer layer instead of a paper design or label. Since a printed can features designs directly on the label, they are a great way to help your company cut the cost of paper labels for your final production run. Blank aluminum cans are compatible with pressure-sensitive labels and shrink sleeves for a wide range of design options.
5.5-Ounce to 32-Ounce Blank Cans
As we learn more about your beverage and goals, we will connect you with the ideal aluminum can for your drink. Our connections with industry partners enable us to provide numerous can choices, such as sleek or cap cans. As you look through your can options, our experts are happy to offer guidance and answer questions to help you determine what type of can will provide the most benefit.
Choose MyDrink for Your Aluminum Can and Bottle Needs
Whether you need aluminum beverage cans or aluminum bottle accessories, when you partner with MyDrink, you will have access to an extensive network of reliable suppliers that can source the proper packaging at a cost-effective price. Complete our contact form to learn more about our packaging solutions today!
Ready to discuss YOUR project?
And Get In Touch with a Beverage Expert
Start your beverage company today
And Get In Touch with a Beverage Expert