Custom Private Label Beverages
The market share for private label drinks is increasing more than ever. Nowadays, the private label product category is becoming very popular among retail centers, brand owners, distributors and entrepreneurs. MyDrink can help you develop your own unique drink formula and locate the right facility to produce your beverage.
Private Label Drink Types
Looking to create an energy drink? We have helped launched more than 100 different energy drink brands all over Europe, Africa, Asia and Middle East. We can optimize your drink development and production. We can help you choose the best factory where you will be able to bottle your energy drink according to your requirements.
We offer the possibility to create your own thirst quenching drinks for your brand. A wide range of packaging solutions are available from PET, cans, glass or aluminum bottles. Everything depends on your imagination and requirements. We will find you the best possible solution for your private label soft drink.
Private label water is becoming more and more popular between retail centers, distributors and brand owners. Moreover, private label water is a great solution for your brand marketing.
Energy Shots & Functional Shots
There are a lot of opportunities in this sector. We can offer a wide list of functions including energy, mental focus, weight management, fat burners, protein shots, vitamin shots, juice shots. We help our clients to develop unique concepts of their drinks and we create the commercial formulas for them.
We are highly experienced in development and production of functional beverages. We have helped our clients to launch more than 20 different functional beverages with benefits such as immunity defense, weight management, mental focus, fat burners, relaxation, and beauty drinks. Our experienced beverage development team will guide you through the process of creating your functional beverage. Our know-how will save you a lot of time and money before launch of your drink.
Since, 2011, health drinks have become a huge trend all over the world. There is a large market demand which offers many opportunities for brand owners, entrepreneurs, and retail centers. Our beverage development team will empower you to create a high quality product with high quality raw materials.
There is an increased demand globally for high quality natural and organic drinks. This market sector is increasing rapidly. We are working with a large network of suppliers and manufacturers that can produce high quality organic drinks.
One of our leading product groups is private label sports nutrition drinks. We have experience working with carbo drinks, protein drinks, isotonic drinks, sports water, fat burners, and weight management drinks. A wide variety of packaging and labeling solutions are available.
Private label alcohol drinks are being produced throughout the world. We have experience creating private label vodka, tequila, gin, bourbon, rum, alco-pop/hard sodas, flavored malt beverages, hard seltzers, and hard cider projects.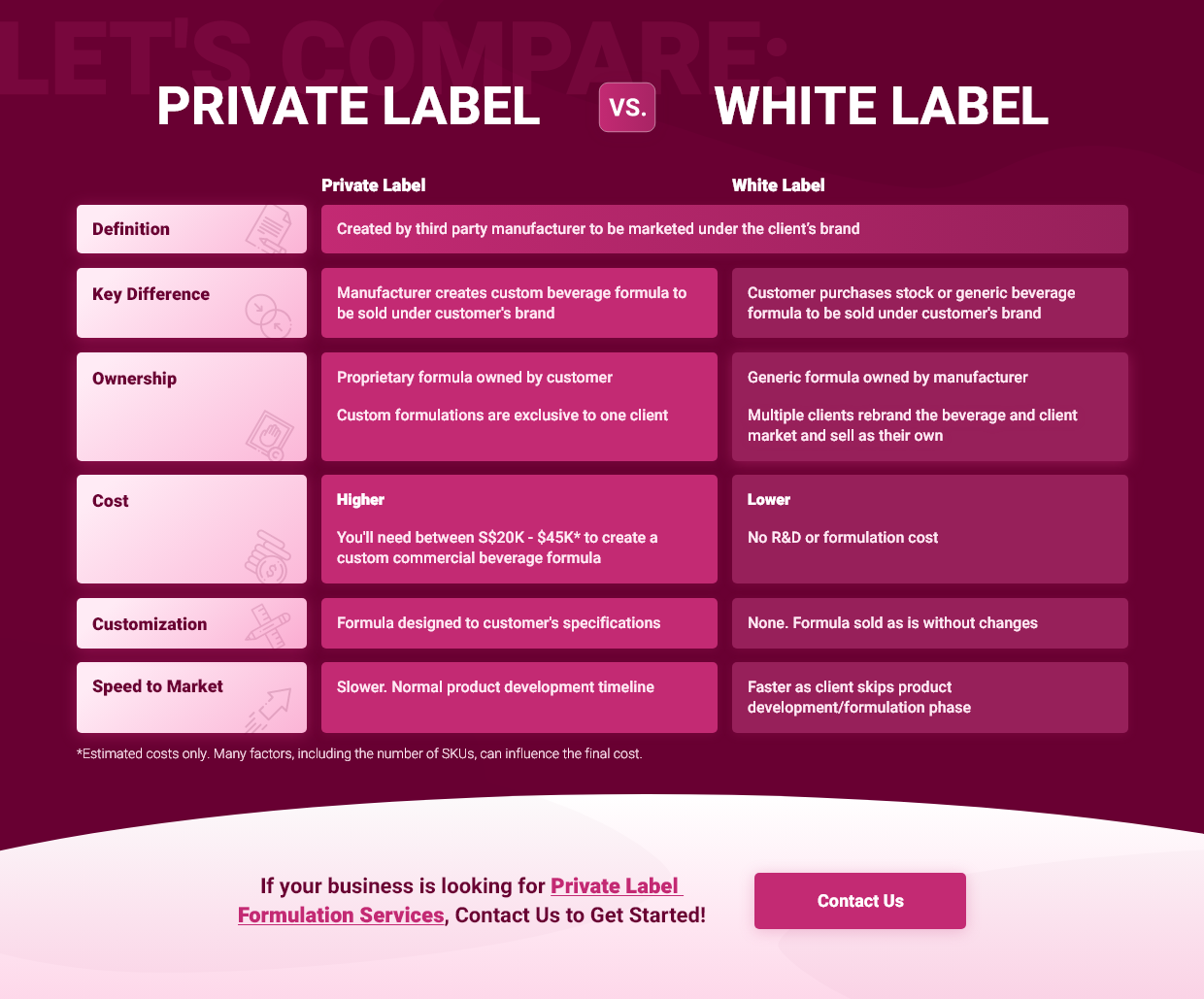 Ready to discuss YOUR project?
And Get A Free Quote in 24 Hours
Check out some case studies
Start your beverage company today
And Get A Free Quote in 24 Hours